Uvolnil se nám termín o letních prázdninách 7.-14.8.2021. Je možné si rezervovat celý objekt!
Nabízíme nadstandardní ubytování v 5 stylově zařízených apartmánech, společenskou místnost a wellness. Krásná klidná lokalita v srdci Šumavy na okraji obce Kvilda s nerušeným výhledem do krajiny. Ideální pro rodinnou dovolenou.
Accommodation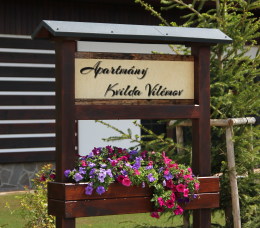 We offer comfortable accommodation in 5 tastefully furnished apartments with separate bedrooms for 2-5 persons. You can relax in the Finnish sauna with relaxation room overlooking the Bohemian forests or with a glass of draft beer in our lounge at fireplace.
Photogallery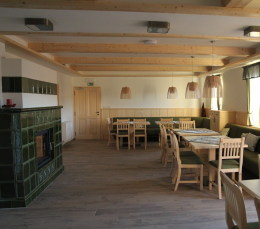 See our stylishly furnished house, which offers the atmosphere of a traditional Bohemian Forest cottage and soak up the peace and tranquility of pristine nature surrounding our accommodation.
Activities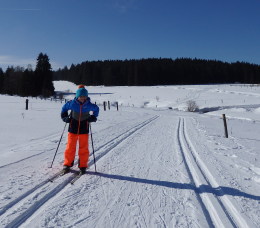 Relax in the heart of the Šumava National Park all year round. Surroundings offer true paradise for cyclists, hikers and mushroom pickers. In winter Kvilda is one of the best locations for classic cross-country skiing You will also find 5 ski lifts suitable for families in case you fancy downhill skiing.
parking directly by the building
the entire facility is non-smoking
Finnish sauna with a view of the countryside (3 times a week free of charge)
if you lease the entire building there is a possibility to use the social room (fireplace, fully equipped kitchen with a bar and a draft beer - barrel can be arranged upon request)
nabízíme dovoz večeří z nedaleké restaurace U Černého vlka.
Výběr je vždy ze 2 menu, které jsou u nás vyvěšené na nástěnce.
Jídlo se objednává u paní správcové
a playroom and a TV, Internet access throughout the building (wifi)
keeper present in the building
delivery of fresh bread
outdoor playground and fireplace
sitting in the yard
lockable ski/bike room
skiroom with boot dryers
Kvilda ski resort (about 900m)
cross-country skiing nearby
hiking and biking trails by the house
the possibility of renting the auditorium / gym in the village